What sets Vinyl Fencing Company apart?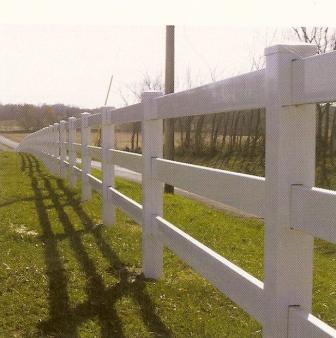 Sure decades of experience is important, and the company owner being on site guarantees the highest quality of workmanship. But Vinyl Fencing Company has an even greater advantage. Vinyl Fencing Company works with better tools, tools that no one else has because they were designed by Steve Kerwin over many years. (see the Fabrication page for information on the portable fabrication shop, and click on this link to see Steve's invention The Mudhopper)
Vinyl Fencing Company specializes in the design and fabrication of customized railing to accommodate various types of terrain. Especially curves, entryways, and gates (including electric openers).
Vinyl Fencing Company, Inc., began fabricating and installing vinyl fence in 1980 using only the highest quality products that carry a lifetime warranty.
We are licensed and insured, and operate all of our own equipment. We have hundreds of completed installations and references in the Kansas City area, and throughout the United States, to show the quality of our workmanship. From 100 feet to 100,000 feet, let us show you the Vinyl Fencing Company difference.