Q: How much maintenance does a Vinyl Fence require?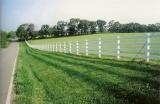 A: A Vinyl Fence requires almost no maintenance. You will never have to scrape peeling paint or pick up a paintbrush again. At most you may want to wash your Vinyl Fence occasionally to remove any dust or dirt that may settle on your fence from being out in the elements.
Q: Will my property value increase if I install Vinyl Fencing?
A: Without a doubt your property will increase in value with Vinyl Fencing.

Q: Is a Vinyl Fence better than a Wood Fence?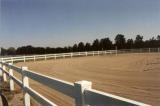 A: Since both fences are equally strong, the thought of which fence is better comes down to which fence looks better longer, which fence is less likely to injure your animals, which takes less time to maintain, and which fence will last the longest. Vinyl Fence is the hands down winner.
Wood Fencing is susceptible to weathering, rot, splintering, peeling, and insect infestation, Vinyl Fencing is not!
Q: Can Vinyl Fence be electrified?
A: Yes, Vinyl Fence can be electrified. In fact it can be electrified without any insulators for the wire. This is because the post is actually the insulator.